Video conferencing software allows online interaction through video meetings and seminars, with features like screen sharing, chat, and recording. These software systems are designed to enable long-distance and international communication, reduce travel costs and improve collaboration. Companies can use video conferencing software to host a virtual meeting and eliminate the need for in-person attendance.
Fortunately, there is a huge number of video conferencing software platforms available on the market. But, the best video conferencing software for your need will depend on several factors, such as your budget, number of employees, and unique features that may be important to you. To help you choose the product that is more suitable for your company's needs, here are the 5 best video conferencing software you should consider.
1.   Zoom
Zoom is one of the best video conferencing software, thanks to including valuable features in every plan. The video conferencing platform also boasts flawless video and audio quality and offers instant sharing capabilities that make it one of the most desired options for video conferencing. Zoom is the right video conferencing software for people who want an effective and simple way to connect with their employees or clients remotely.
The platform also has secure socket layer (SSL) encryption which guarantees communications, and Linux OS and Chrome support for flexibility. Zoom allows you to show about 49 videos on the screen and host about 1000 participants, which makes it one of the highest in the world of video conferencing. You can integrate with some of the top calendar apps such as Gmail, iCal, and Outlook. And it also helps you sync your schedule and automatically join meetings.
2.   Microsoft Teams
Within a single application, Microsoft Teams allow you to schedule audio or video meetings with a single person or group of people. You can also set up big meetings and webinars for up to 10,000 partakers. With the ability to fully integrate Microsoft Teams with Microsoft 365, you can schedule calls as well as share invites easily in your organization, while external participants can join the meeting from their web browser without downloading the app.
The platform also offers comprehensive and valuable features you can expect to see from top video conferencing software companies, which include call recording, screen sharing, chat, live captions, and more. Microsoft Teams also allow users to join video calls from almost anywhere.
3.   GoToMeeting
GoToMeeting remains a highly polished video conferencing software with a long list of valuable features that would satisfy most business needs. The platform allows you to host a video conference for about 3000 participants and share your screen with them in real-time. You can also book meetings in advance and start directly from your mobile device. And you don't have to bother taking notes during meetings because GoToMeeting has cloud recording features that allow you to record all sessions and store them.
You can access the cloud meetings from your mobile device as well. Additionally, you can integrate the software with the Office 365 plugin to schedule and join upcoming meetings directly from your calendar.
4. Google Meet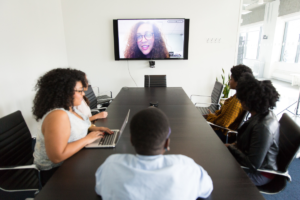 Google Meet is one of the top video conferencing software because it allows you to create or join an audio or video conference for free with easy-to-use features. Having been recently rebranded, Google Meet intends to offer top-notch conferencing service. Designed exclusively for business needs, Google Meet allows you to host an enormous number of participants at once. It also uses a quick interface and shrewd participation to reduce the need to wait. Plus, Google Meet offers a dedicated dial-in number, which means that guests can join in while making sure that line quality is maintained and no drop-outs.
5. BlueJeans
BlueJeans allow you to conduct meetings from any laptop, mobile device, or meeting room. The video conferencing software provides real-time intelligence with highlights and transcripts for better productivity. BlueJeans' browser-based experience is also user-friendly, which means you don't necessarily need to download any software to use it. The software also allows you to simplify the management with live meeting controls, automated alerts, and analytics.
Plus, BlueJeans provide multi-device interoperability that also offers one-touch access to meetings on any device and platform. Integration with multiple 3rd-party apps and calendars helps with better collaboration, meeting transcription, content sharing, call recording, and more.
Conclusion
That is it for the best video conferencing software available on the market. These video conferencing software solutions help you organize a meeting and connect with employees, customers, and colleagues remotely using collaboration tools. Depending on your needs, there is something that provides just what you are looking for.