The best cloud storage services offer online storage for their customers to place their data and files. There are some free cloud storage services that usually offer less storage space and cloud storage services that require a subscription plan. Usually, you can get some free storage by creating an account, and then you can upgrade to get more storage space.
In order to use cloud services, we need a fast internet connection. So, make sure to improve your internet connection. And then you can access, upload, and download even the largest files from your cloud storage.
Why do we need cloud storage services?
As we all know, each computer has a certain amount of storage. But as time goes by, technology improves and the files are getting bigger and bigger. For example, a 5-minute video today is taking a lot more storage space than it did five or 10 years ago. Today, we can record videos even in 8K resolution and that takes a lot of space.
One by one, files add up on our computer storage. And in a blink of an eye, our storage is full. Then, we have two options: buy an external storage unit or get a cloud storage service.
Maybe the online cloud storage service is a more convenient option since you can access it from any device that has an internet connection. When it comes to the external storage, you have to drag it around with you and usually connect with cables.
What are the best cloud storage services?
So, companies saw the problems people were having with their data storage and they offered a solution – cloud storage. Cloud storage is storage you can access via the internet. Here are the best services offering cloud storage space.
1. IDrive
IDrive is considered to be one of the best cloud storage services available. With this service, you will have a huge amount of storage for a small price. You can back up an unlimited number of different devices – personal computers, iPods, iPhones, Macs, Android phones, tablets, and even external hard drives. The file upload speed is really fast. They offer a great mobile app and free 5GB. The business version offers a lot more space compared to the personal offer.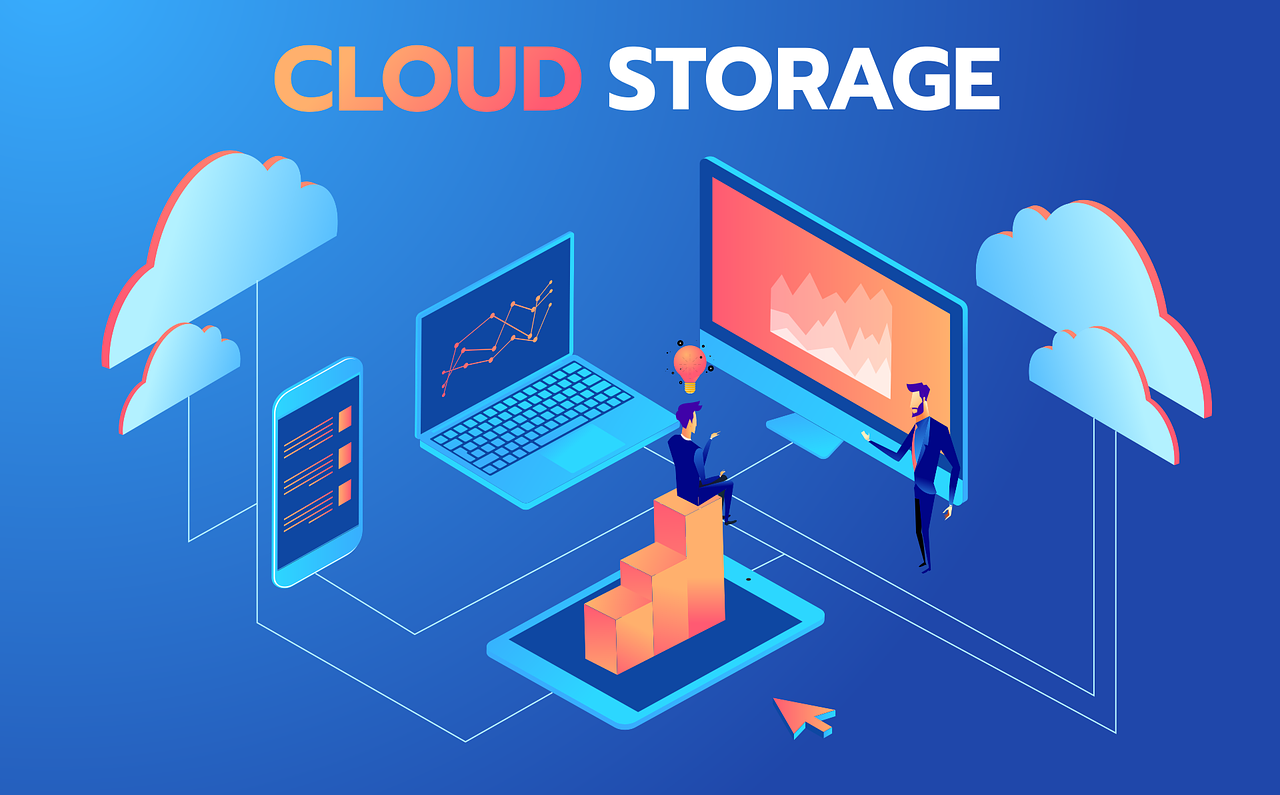 2. Microsoft OneDrive
Microsoft's cloud storage service offers a lot of features with a great interface. As expected, it integrates well with Office and Windows 10. It provides useful features like real-time editing (collaborative), AI photo tags, filtering the files by folders, casting photos, and fantastic search options.
You can upload all sorts of files like music, documents, photos, videos, etc. If you have a Microsoft account, you already have the OneDrive account. And you will get 5GB of free storage. The capacity of the paid version is 6TB with a limited number of 30 devices.
3. Google Drive
Unlike the Microsoft OneDrive, Google Drive offers an unlimited number of devices, but also a smaller capacity of 2TB. What is great about Google Drive is that it is very generous when it comes to free storage. They give 15GB of free storage and they are one of the services offering the largest free storage.  Even though the interface is appealing, Google is one of the leaders when it comes to search options and AI.
4. Dropbox
Dropbox is a solution that works well with any OS – Windows, macOS, iOS, or Android. It has well-designed apps for each. You can sync your files, but you can also choose the cloud-only option for some folders and clear up some space on your computer.
Maybe the strongest feature when it comes to Dropbox is the sharing option. You can share files with others who don't need to have a Dropbox account. They can view and leave comments on the link. A great option (which you have to pay additionally for) is searching the content of the documents.
5. Apple iCloud Drive
If you are an Apple user, this might be a good option for you. It might not be as good as Microsoft OneDrive or Google Drive, but still, it is a good option. The great thing is that, when you sign in to your account, it syncs all the files from Apple devices and Windows personal computers. But, it doesn't support Android devices.
You can get free storage of 5GB if you own an Apple device. Otherwise, you will get 1GB for free. The plans go from an additional 50GB to 2TB.
The downside is that you can share the files only with people who have Apple ID. Also, there is no search option in the web app. You can search only contacts, mail, and reminders.